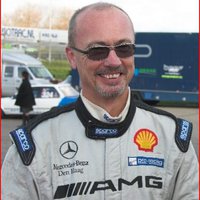 Einar is the team's IT wizard, runs this web site, and tries to make sense of all data logging and video analysis used for driver coaching.
He started racing in 2006, with a brand new race license his first ever race was at VLN in a V4 Mercedes. Since then he has mostly raced on his favourite track, the Nurburgring Nordschleife, as a freelancer in V2, V3, V4, V5, V6, SP6, SP8, SP10, on Mercedes, BMW, Aston Martin, Porsche, and Renault. He has participated in the Nurburgring 24H since 2007. He has been on the class winner podium from time to time and won the Dutch Dacia Logan Endurance Championship back in 2008.
In 2009 he raced with Meyrick at the N24H and they have raced together on and off since then.
In 2012 he raced with Carsten for the first time and immediately won the SP6 class in Carsten's Porsche Cayman. That led to a full season with Carsten's RPR Racing team in 2013.
His Facebook page
is regularly updated, so you can go there for his latest news.